Mask Up
Mask Up is now available for Windows + Corruption Update!
---
Hello lovely itch.io folks! You guys are my favorite, you know that?
Anyway, I wanted to let you know that Mask Up is finally available on Windows, along with a huge game changing content update called the Corruption Update! The Windows version of Mask Up will cost you a few bucks, but you can still play the game for free with the exact same content on android. Check out the trailer, whether you're just discovering Mask Up, or are a returning player!

So what's corruption?
For this update, I wanted to give the player the choice to increase the game's difficulty early for some cool bonus, and so corruption was created. There is a tutorial explaining it, but let me break it down quickly to you: corruption is a hidden stat of the player, that starts at zero. It increases slowly as you kill enemies, but some actions, like petting dogs, can also decrease it. Once your corruption is high enough, the world will become more and more corrupted. Each biome and mechanic has a corrupted counterpart. For example, here's what happens when the lab becomes corrupted: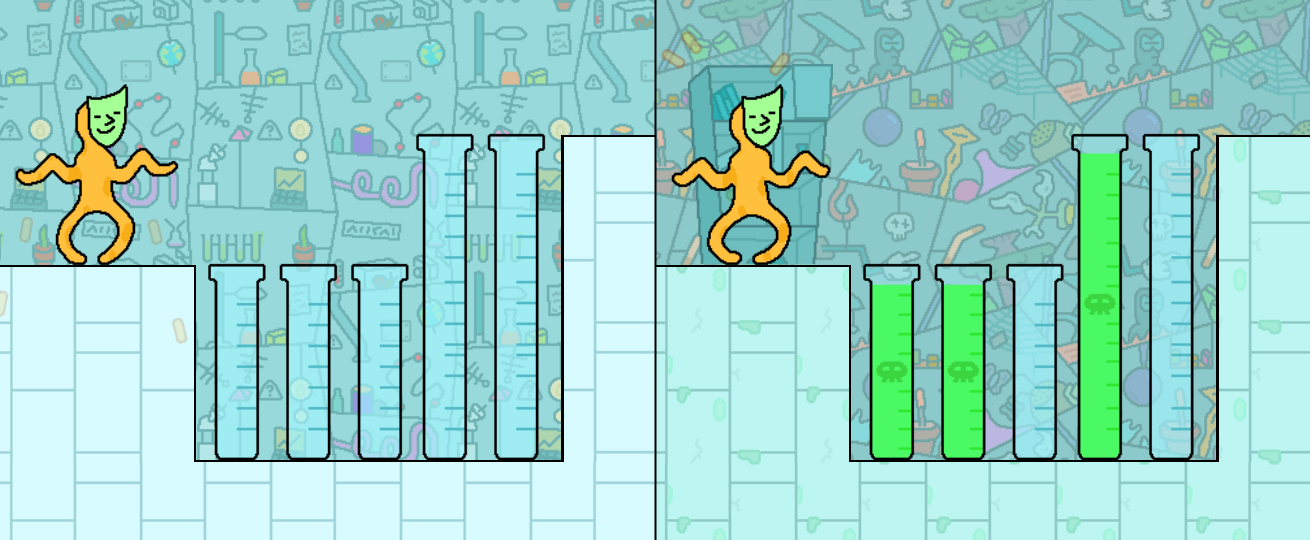 Test tubes will become explosive!
I won't spoil every corrupted biome, but as you can see this update effectively doubled the amount of biomes and mechanics. I had a lot of fun creating "remixed" versions of the 5 original biomes. As you can guess, when the world is corrupted, it gets a lot harder, so you'll want to keep it down on the corruption. Or will you?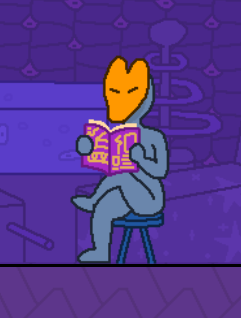 Introducing: The Fox. The Fox is a mysterious NPC, expert in everything corruption-related. If you find the entrance of her shady shop, you will be able to get your hand on some useful items, and will receive some corruption in exchange. For instance, the chalice is an item that lets you see your current level of corruption.

They are two new music tracks in the game, that you can hear when around The Fox, many thanks to meliméa & PeKaNo for them!

Other changes
I also added a new enemy that isn't related to corruption: the Bomb Guy. The Bomb Guy is a high level unit here in the underground, and has been trained to handle very dangerous and explosive poison flasks. You'll want to get close to him as soon as possible, or try to send back its bomb by hitting it.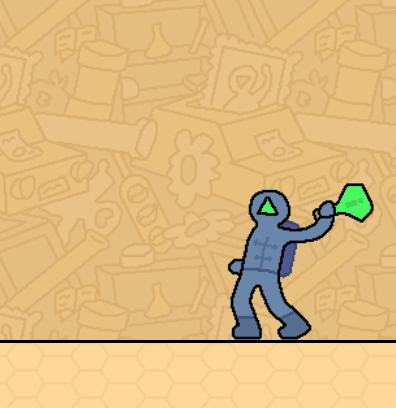 a Bomb Guy in its natural habitat
I also couldn't resist adding 24 new masks. Some of the new masks are pretty easy, but some of them may never be found. One of them in particular was imagined by a player and friend of mine who unlocked every previous masks, as a reward. Oh by the way, you can play with any unlocked mask you want by clicking on it in the mask menu now!
QOL and improvements
I also reworked a lot of the interactions to make the game feel better. The first thing you may notice is that the player's friction on the ground is now wayyy higher. This allows for a more precise control. Other than that, I had to change the way the player interacts with test tubes and the balance of the game to integrate the corruption. I also took the opportunity to improve the menus' look.

Finally, let's talk about the Windows build. As you may know, Mask Up was initally based on the idea of having only two buttons to control yourself. So at first, this was also the only way to play the game on Windows. But quickly I realized that it would probably be better to use what the plateform has to offer and to add a more classic form of control with 4 buttons: left, right, jump and attack. Those where surprisingly hard to implement, as the base input logic was build with a lot of various buffers and ways to detect if the player was moving, attacking, or charging a jump. But now, the game feels a lot easier to play. I then added controller support on top of that, and the option to rebind your keys. You can still play with only two buttons if you want, exactly like on android! Since the game is also releasing on Steam, I also added achievement and leaderboards there.

This long devlog didn't cover half of the update's content, so I hope you'll try the game by yourself to discover the world of Mask Up in more depth. I still have a lot of ideas for content that I shall add if the game does well. Thank you for reading!
- Rouli


Join the Telegram channel to get notified about big updates
Join the Discord server to chat about the game
Follow me on Twitter wait no actually don't

Files
Mask Up (itch.io).zip
36 MB
Mar 12, 2021